Jezzine Travel Guide
How to Visit Beautiful Jezzine
Why Visit Jezzine?
 The picturesque village of Jezzine is perched high on a cliff top overlooking the incredible Jezzine waterfall – at 90m (295ft), one of the highest waterfalls in Lebanon.  It's also practically surrounded by Bkassine forest, the largest pine forest in the country, making for beautiful views in all directions.  Given all this nature, it's a pity that most tourists have never heard of Jezzine (it took me over 2 years living in Lebanon before I visited).  This travel guide aims to change that!  It contains everything you need to know to make the most of your visit, including what to see, how to reach the waterfall, where to eat, where to stay, and how to get there by public transport.
Located in the mountains just east of Saida, Jezzine's location makes it the perfect day trip from Beirut or Saida.  There's also some accommodation options for those who want to stay overnight.  In this travel guide, I explain everything you need to know for a visit to Jezzine, including what to see and do, where to eat and where to stay.  
Things to See and Do in Jezzine
Everything in the Jezzine area can be covered comfortably in a day, unless you want to attempt some of the longer hiking trails through the pine forest.  The following are my recommendations for a relaxed day or weekend trip.
Jezzine Waterfall
The premier attraction of Jezzine is the spectacular Jezzine waterfall that pours over the cliffs on which the village sits.  There are a couple of viewing points in the village at the top, but the angle means that you don't see much.  The best way to see it (and the only way to feel its power) is to walk the short trail into the pool at its base.  It's truly spectacular from below and getting soaked by the spray adds to the fun.  Be sure to visit between November and May, as during the summer months there is little to no water.

Directions: On the main road into Jezzine, coming from the Saida direction, you'll see a large white Christian statue of 'Our Lady of the Waterfall' on your left.  Just before it is a narrow road signposted Wadi Jezzine.  Follow this road down the hill until you reach a fork and take the right hand road (which forms almost a hairpin bend).  A few hundred metres further on, you'll find another hairpin with a large metal gate on the outside (see photo below).  This is the start of the walking path into the waterfall.   The location on Google Maps is: https://goo.gl/maps/aeHd8EAZH31NP6WC9).  
When I was there, the large metal gate was closed.  It seems tragic to try to stop people going to see such a beautiful sight, but it's also easy enough to scale the wall to the right of the gate (at its lowest point, it's around a metre high).  I climbed over and then followed the path to the waterfall, admiring the views as we went.  I saw quite a few Lebanese people doing the same, so it seems to be here.  
Bkassine Pine Forest
The largest pine forest in the whole of Lebanon, Bkassine more-or-less surrounds the village of Jezzine.  It's a beautiful place to get lost in nature and there are many hiking trails and entry points.  I also saw people mountain biking along the rough tracks, which looked like a lot of fun.  
For those looking for a casual stroll, a great place to start is La Maison de la Foret, a kind of rustic resort with a restaurant, wooden cabins to stay in and various activities.  From the entrance, follow the path down the hill between the cabins and after a couple of minutes you'll be out of the resort area and into the forest.  
For the more serious hikers, there's actually a great Website called Visit Jezzine with a list of hiking trails on it at https://jezzinetourism.com/article?id=7.  
Directions: The location of La Maison de la Foret is on Google Maps: https://goo.gl/maps/LnMLFR2JhLh11bsC8.  For other hiking trails, follow the directions on the Visit Jezzine site.
Join an Olive Oil Tasting
Lebanese people love olive oil and the Jezzine area produces many different types.  During my visit, I randomly came across a local shop that sells several different varieties, along with other delicacies from the Jezzine area.  When I asked whether I could taste the olive oils, five different tasting bottles were brought into the room and the owner gave me an introduction to each before trying it.  He was very knowledgeable about the differences between the oils, what they could be paired with, and the different flavours I could expect to taste.  
Before we actually tried the olive oils, we had a quick lesson in how to taste them correctly.  Roughly speaking, you place the paper cup on one hand and cover it with the other to keep the aroma from escaping.  You then rotate it on your palm for about a minute to warm the oil, thus releasing the flavour.  Once warmed, you raise it to your nose like a fine wine, smell its aroma, and finally drink it, holding the oil in the front of your mouth around your teeth to savour the taste before swallowing.  
In addition to the olive oils, the shop had an interesting range of locally-made liquors, including mint (so good), almond (basically amaretto), walnut (not bad) and myrtle (interesting, but not great).  If you ask, they'll let you try them as well (and no, I didn't mention that I write a blog).
Directions: The shop is called J.Grove and is located on the edge of the road into Jezzine from Saida, about 3km before you reach the village.  Or check Google Maps: https://goo.gl/maps/fe4ry8afjRY781CKA. 
War-Damaged Buildings
If you want to explore something really off the beaten track and don't mind a bit of dark tourism, the Jezzine area contains a lot of crumbling war-damaged buildings.  I came across these by accident while driving back from Jezzine to Saida and ended up stopping for an hour to explore.  
About halfway between Saida and the village of Jezzine is Kfar Falous, a village that was a front between Israel and groups defending Lebanon between 1985 and 1991, during the Israeli occupation of southern Lebanon.  The area was the scene of intense fighting, which destroyed many of the local buildings.  Today, most of the buildings still stand in much the state they were left when the fighting stopped.  Some are riddled with bullet holes or have been damaged by fire or explosions, while others have been reduced to no more than piles of rubble and twisted metal.
Wandering through the abandoned buildings offers a window into Lebanon's past (and to some extent current) struggles that has been frozen in time.  Aside from the buildings themselves, with their visible signs of conflict, there is some interesting and sometimes beautiful graffiti.  Much of the writing is in Arabic, largely related to Palestine and hopes for the future, so it helps to bring an Arabic speaking friend along if, like me, you don't speak it yourself.  In some areas it's also beautiful to see how nature is gradually reclaiming the land, with trees growing up through the cracked concrete and vines creeping along the walls.
Warning: The buildings I explored appeared pretty solid, but always be very cautious when exploring such areas, as some could be unstable.  Also note that some areas of south Lebanon still contain unexploded landmines or other ordinance, so avoid walking off of paths and be cautious with anything that looks suspicious.
Directions: The main buildings I explored are located here: https://goo.gl/maps/zJaPQB1f6zgmmL9T8 and https://goo.gl/maps/Lkzf1SKeht5Q2kT26 and they seemed pretty safe.  The first area appeared to include some kind of cinema complex, while the second appeared more like a residential complex with a corner of one of the buildings having been completely destroyed.  I later found out that it was blown up during a Lebanese military training exercise in 2014.  
Where to Eat in Jezzine
I ate a delicious Lebanese lunch at the Blue Jay Valley restaurant just outside of Jezzine.  It was beautifully decorated with great views over the pine forests and still reasonably priced at about $30/€27 for two people, including drinks.  I highly recommend the hummus Beiruti.
Where to Stay in Jezzine
If you want to stay overnight in Jezzine, La Maison de la Foret could be a very good option.  It has wooded cabins located within the pine forest and a restaurant on site.  It's not cheap though.  A cabin without a view of the forest is $95 a night and with a view it costs a cool $140.  
A good mid-range option is Honey Guest House.  It's clean and has a nice garden, although the wifi can be patchy.  The location is about 3km outside of Jezzine (here on Google Maps) and the price is a more budget-friendly $30 a night. 
Getting There and Away
Jezzine is up in the mountains to the east of Saidi (Saidon), but is connected by Lebanon's information public transport network.  Your options are as follow:
Rental car

– The easiest way to reach Jezzine is with a rental car and this also gives a lot of freedom to drive between sites outside of the village.  The journey takes 30-40 minutes from Saida and you can just follow the directions on Google Maps.

Public transport

– There are buses and shared taxis running from El Nejmeh square in Saida to Jezzine.  Just ask around and someone will direct you to the right vehicle.  The price is hard to gauge due to Lebanon's hyperinflation, but should be around $1-2 for the bus and $4-6 for the shared taxi.  For the shared taxi, tell the driver you want a "service," otherwise he may presume you want a private taxi and try to charge you for the whole vehicle.

Hitch hiking

– I haven't tried hitch hiking in Lebanon, but friends that have always seem to have been successful, especially in rural areas such as Jezzine.  Some drivers may not understand the concept and expect a small fee for the trip.  
More About Lebanon
Thinking of visiting Lebanon?  After two years living here, I've been to almost every inch of the country and written this Ultimate Lebanon Travel Guide with practical information and all the best places to visit.  See the links below for my other articles on this crazy beautiful country: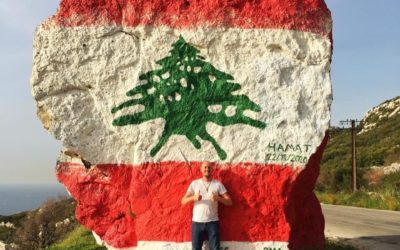 Everything you need to know to enjoy travelling Lebanon during 2022, including the best itineraries, safety tips and amazing Lebanese food.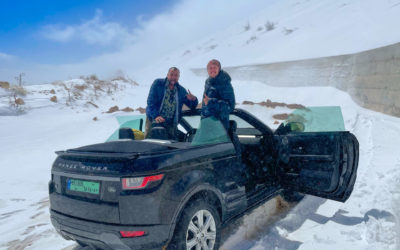 Hermel & Beyond: Road Tripping Remote Lebanon As a Scot, I'm used to living in countries far bigger than my own.  Lebanon is the exception - the entire country is only about 200km long and 80km wide at its widest point.  So how, you might ask, can there be 'remote...