Description
High-quality microfiber duvet/quilt/comforter cover.  Add five of your favourite travel photos from around the world.  Perfect for that unforgettable trip or as a gift for the friend who loves to travel.
How to order:
Select the size of cover you require above.
Choose 5 of your favourite travel photos.
Name the photos with the locations they were taken (so we can match them to the location on the map).
If you want the photos in a particular order, number them as per the diagram below.  So for example, if you have a photo from Rome that you'd like in position 1, name it "1. Rome, Italy".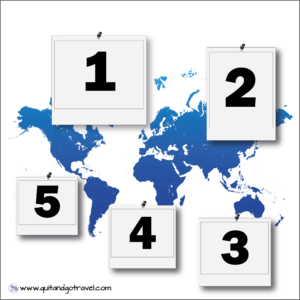 Upload the photos below.
When you're ready, click Add to basket.
Remember, the higher the quality of the photos, the better they will look on your cover (standard digital camera/mobile phone photos are fine).  Once your order is received, we will insert them into the design and send it to our our manufacturer in China, who will print the cover and ship it directly to you.  If the photos are not numbered, our designer will position them around the map to give the best effect.
Contents: 1 high quality microfiber duvet/quilt/comforter cover and 2 standard size pillow cases.  The cover is printed with the map personalized with your photos and the covers with a world map.
Returns policy: Due to the personalized nature of this product, we can only accept returns if the product is faulty.
Shipping time: In most cases shipping takes 6-12 days.  However, please allow 30 days for delivery.
Want to ask a question before ordering?  Please click here.