Lebanon
Hermel & Beyond: Road Tripping Remote Lebanon
Hermel & Beyond: Road Tripping Remote Lebanon
As a Scot, I'm used to living in countries far bigger than my own.  Lebanon is the exception – the entire country is only about 200km long and 80km wide at its widest point.  So how, you might ask, can there be 'remote areas' in such a tiny country?  This is the story of how some friends and I ended up discovering parts of Lebanon that even most Lebanese never see, and all as a result of choosing completely the wrong car for our road trip.
The story began when a member of a Facebook travel group got in touch with me for some tips for his upcoming trip to Lebanon.  It turned out that he's actually friends with one of my university classmates in the US (small world) and so I decided to join him.  Along with Polish YouTuber Anna Nagot (you can check out her channel here) and a French guy called JP that he'd picked up somewhere along the way, we set off for a one-day road trip around Lebanon. 
Reza picked me up at 6:45 that morning in a Range Rover convertible – our super practical transport for a country like Lebanon.  The plan?  The ruins of the ancient Roman city of Baalbek, The Cedars of God and the ancient city of Tripoli.  So far so tourist trail.  Everything went well at first, as we sped over the mount Lebanon range on the Beirut-Damascus International Highway (pity that actually reaching Damascus is just a pipe dream at the moment, due to Covid restrictions).  There was a little snow on the ground, but the sun was shining and we stopped for breakfast on the way at a roadside bakery with a beautiful view over the Bekaa valley.  
We passed through the military checkpoint at the entrance to Baalbek city, slowing to say good morning to the guards, who waved us on through.  The checkpoints in Lebanon rarely cause issues for foreigners and the guards, when they speak English, are always very friendly.  The north east of Lebanon is the most lawless part of the country, with marajuana farms and frequently violent incidents, usually involving guns and sometimes even RPGs.  Baalbek city is on the edge of this area and relatively safe for tourists, but security is still high.

Arriving in Baalbek around 9am, we were the first visitors through the gates of the Roman ruins.  This was my fourth visit and I truly think these are some of the most spectacular and well-preserved Roman ruins anywhere in the world, better even than the Roman Forum.  The scale of the Temple of Bacchus (the wine God – gotta love Roman priorities) is simply breathtaking.  After we'd finished wandering the ruins, we headed over to the main street of the new town and had a second breakfast of delicious sfeeha, a meat pastry that originates from Baalbek, prepared right in front of us on the edge of the street and cooked in a traditional oven.
By 11am we were back on the road, wind in our hair, slowing only momentarily as we passed back through the checkpoint to exit the city.  It was only the following Monday that I read in the news that another car that day failed to stop at the checkpoint, resulting in a shootout with security forces that left three people dead and eleven injured.  Maybe the convertible hadn't been the wisest choice of transport for our trip after all, a fact that became even more obvious as we started climbing back over the mountains towards the Cedars of God.

The Cedars of God are a UNESCO-inscribed cedar forest located high in the Lebanese mountains near Qurnat As Sawda, the highest mountain not only in Lebanon, but the entire Levant.  We took the mountain road from Baalbek, admiring the scenery as we began to climb, but it wasn't long before the fields gave way to rocky slopes which gradually turned white, as did the road, which became buried in an increasingly thick layer of snow.  
As we reached 1,900 meters above sea level, everyone was shivering in our very-practical car.  As a kid, my dad had an old Range Rover that he used for driving around farms in rural Scotland, so I'd always thought of them as robust off-road vehicles.  Not this one.  The Evoque is designed for people who want to look cool, but stay in the city.  We searched the dashboard, but it didn't even have four-wheel drive, and we started to slide on the icy road.  Just as we were beginning to wonder how much further we could make it, we were forced to stop at a row of rocks that had been placed across the road as a makeshift roadblock.  There was a way around, but the road in front was half-buried in deep snow drifts and there was no way our car was going to cope.  The place was beautiful though, so we stopped for some very cold selfies and headed back down.  
The Cedars of God were a no go.  They are well over 2,000 meters above sea level and there was no way our car could reach them from any direction.  But we still wanted to reach Tripoli.  We had two options – the easy but boring one of retracing our route to Beirut and then taking the coastal highway like normal tourists.  Alternatively, we could try driving up through the north east Hermel region to Qobayat and across the mountains in the north, which are lower than the central and southern ones.

The problem with the Hermel route was that we would have to take the Baalbek-Qaa highway past Arsel, generally known as the most dangerous place in the country, Ras Baalbek and Qaa itself, then through the Hermel region.  All of these areas are security red zones known for violence and carjackings.  I've often joked with Lebanese friends about visiting Hermel and the usual response is "never leave your car – when you come back to it, the wheels will have been stolen!"
It's difficult to judge how much the security threat is real and how much is imagined.  The previous Thursday I'd been chatting with a Lebanese friend about these areas and he'd told me that they're reasonably safe, but only if you visit with a local.  He had visited the area with some friends and a local guide and "the local guide got shot," he told us.  "But don't worry, they just shot him in the feet, it was due to a dispute with some other locals."  Very reassuring!  It seemed to me that if they had visited alone they would've been safer than with a local.  This fits with news reports regarding security in Hermel, as they frequently mention violent incidents in the area between local inhabitants over land or business deals gone sour.  Lebanon's legal system isn't really an option in mediating disputes, so people take things into their own hands.
We decided to risk it and turned onto the Baalbek-Qaa highway heading north.  The road was surprisingly beautiful and reminded me of some photos I've seen of roads through the American midwest (route 66 and all that).  It was even better quality than most Lebanese roads with few potholes.  Parts of the area are extremely flat and are punctuated with farmland or scrubby bushes – quit unusual scenery for the Middle East.  We stopped at a bakery for some coffee and eventually turned onto the Hermel-Ras Baalbek Road and approached the town of Hermel.  
I've been curious to visit Hermel ever since I first heard of it, largely because no one does, so I had done a bit of research on the area.  There honestly isn't much to see, but I had come across an article on Kamouh El Hermel, the pyramid of Hermel, which seemed worth a look.  According to Wikipedia, it's thought that it was built around 200 BC, but no one's really sure who by.  In fact, no one's even sure how high it is – Wikipedia states that it is, "between 19.6 metres (64 ft) and 27 metres (89 ft) high!"  It's located on a small hill on the outskirts of the town of Hermel, easily visible from the road, so we drove up to it to take a look on the way past.

The lower half of the pyramid of Hermel is covered in graffiti and the architectural style is quite a mixture, with different sections carved from different colours of stone, either by design or from being badly restored at some point in its history.  It has reliefs on each side depicting scenes involving animals, some of which are fairly well preserved.  To be honest, the main thrill was simply from visiting a place that so few tourists (and even locals) have ever seen.  Even most of my Lebanese friends had no idea that it was in Lebanon when I showed them the photos afterwards.
We drove on and were surprised to find that Hermel has a classic I Love Hermel sign for tourists to take photos in front of.  Although, even this is risky, as the sign is right in front of the main road into town, so the only way to take a good selfie is to wait for a break in the traffic and stand in the middle of the road.  I almost felt sorry for the poor neglected sign, I don't think it gets many visitors!
As we left Hermel, the road started to climb and we were treated to stunning views back over the northern Bekaa valley.  We passed a huge quarry, possibly the source of some of the light-coloured stone that many of Lebanon's buildings are made from, and some areas of farmland, but otherwise most of the surrounding hills were covered by scrubby bush.  We stopped to take a few photos, including one of a friendly local goat herder, who waved to us and smiled.  It was incredibly picturesque and there were virtually no other vehicles on the road.
In Qobayat, a small mountain town, we stopped for yet another coffee and some crepes.  Reza, who was driving, had just flown in from California the day before, was suffering from jetlag, had only had one hour's sleep and we'd already been on the road for about nine hours by this stage, so he badly needed the coffee.  I was watching him as he drove just to make sure that his eyes stayed open!  There's nothing much to actually see in Qobayat, so we took a quick selfie with the I Love Qobayat sign and got back on the road, hoping to make it to Tripoli before sundown.  
We finally arrived in Tripoli around 5pm and headed to the old railway station.  Lebanon no longer has any working railways and, although most of the old rails have been looted, there is various decaying railway infrastructure throughout the country.  Tripoli's old station is the best-preserved example that I've come across, with several rusting locomotives.  The station used to be the terminus of the Orient Express line back in the 1920's and had connections to Damascus and Beirut.  However, it was abandoned in 1975 with the onset of the civil war.  We soon discovered that it's also a popular spot for locals to take wedding photos – when we arrived, there were two separate wedding parties snapping away.  The station is an interesting place to visit and, typically for Lebanon, no one cares if you climb on top of the trains to take photos.  There's also some quite bueatiful graffiti.  
Finally, I took my now exhausted companions to The Sailor Woman, my favourite seafood restaurant.  Aside from salads and fries, the restaurant usually only has three dishes – calamari, octopus and fish with Tahini.  What makes it special is that all the food is literally homemade in the kitchen of the apartment where the family that runs it lives.  The chef is a little old lady who occasionally comes out to bring more food.   The restaurant itself is basic outside-only seating (with a plastic canopy for warmth in winter).  As it only has a urinal, if ladies need to use the toilet, they are led into the apartment to use the family's bathroom.  The food is delicious, with a special local flavour that's difficult to describe, well-priced and very fresh, although by this time we were all ravenous, having not eaten a meal since breakfast, and would've enjoyed almost anything.  
After dinner, we took the coastal highway back to Beirut.  It had been one hell of a day and not what my newfound friends had expected at all from their first full day in Lebanon.  They hadn't seen any of the usual tourist sites, such as Pigeon rocks and the old town of Byblos, but everyone agreed that it had been an adventure they wouldn't forget.  
Useful Tips
Lebanon is currently going through an economic crisis and has become a very cheap destination.  For example, a bottle of beer in a supermarket is now about $0.60 and in a bar around $1 to $1.50.

Car rental is also very cheap.  The Range Rover Evoque we hired, which is obviously high-end, was $60 a day from Hertz.  However, I previously hired a Kia Picanto from a local car hire company for just $10 a day, including insurance.  

Most of Lebanon is very safe for tourists and, as with our story, you'll probably be okay even if you do venture into the supposedly less-safe areas.  Generally, the most dangerous areas are northern Baalbek-Hermel governerette (north of Baalbek city) and in particular, Arsel, Ras Baalbek and Hermel.  The southern suburbs of Beirut can also be a bit dodgy.
More about Lebanon
Thinking of visiting Lebaon?  After two years living here, I've been to almost every inch of the country and written this Ultimate Lebanon Travel Guide with practical information and all the best places to visit.  See the links below for my other articles on this crazy beautiful country: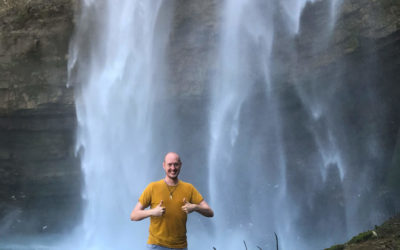 Why Visit Jezzine?  The picturesque village of Jezzine is perched high on a cliff top overlooking the incredible Jezzine waterfall - at 90m (295ft), one of the highest waterfalls in Lebanon.  It's also practically surrounded by Bkassine forest, the largest pine forest...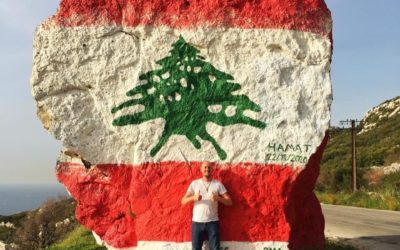 Everything you need to know to enjoy travelling Lebanon during 2022, including the best itineraries, safety tips and amazing Lebanese food.