What to do in Port Sudan and Suakin
Ultimate Sudan Travel Guide
Sudan's Red Sea Coast: Port Sudan and Suakin
This travel blog contains everything you need to know to visit Port Sudan and the coral city of Suakin independently and all the best things to do there.  It includes the best sights, how to travel there with public transport, where to stay and how to stay safe during your visit.  This is part of my comprehensive Sudan travel guide.
Port Sudan and Suakin are located on the Red Sea coast about 60km from each other.  The area's main attractions are the ancient coral city of Suakin island and scuba diving in the red sea.
What to do in Port Sudan
Port Sudan is the third-largest city in Sudan (after Khartoum/Omdurman and Nyala, which is in Darfur and off limits to visitors) with about half a million people.  As the name suggests, it hosts Sudan's largest port, which took over from Suakin when modern cargo ships became too large to enter Suakin's bay.  
Port Sudan has a decaying waterfront that's a great place to take a stroll in the evening when the temperature is a bit lower.  You will usually see local families gathered for picnics or just hanging out.  There're also a selection of restaurants, although most of them were closed due to Ramadan when I was there.  The modern container port is visible just across the bay, if that's what floats your boat. 
The main activity people visit Port Sudan for is scuba diving and snorkelling in the Red Sea.  When I was there, all the diver centres were closed for Ramadan, but I met people who'd done it.  The main comment was that most of the coral is dead and the fish are not that impressive.  It's cheaper and better in Dahab in Egypt.  However, if you're not a diver, the main attraction is the ruins of the ancient coral city of Suakin 60km down the coast.  
The History of Suakin
I don't usually talk too much about history on this blog, but Suakin's is what convinced me to take the ten-hour bus journey from Atbara, so it's worth a mention.  From the 15th century until the opening of Port Sudan in 1922, Suakin was the major African port on the Red Sea.  The first known references to it date to the tenth century, but mention that it was already an ancient town in those days.  No one is sure of its exact age.  
As Islam became the dominant religion of the region, so the port grew in significance as a major passenger hub for pilgrms travelling across the Red Sea to Jeddah and then on to Mekka.  In a darker twist, the port was also a slave traficking hub for Arab slavers.  
The island of Suakin, where the old town is located, is surrounded by a small bay of tranquil turquoise waters that sheltered ships from the open sea.  However, the bay was quite shallow, as it was full of coral reefs.  To allow larger ships to enter, a channel was dug through the coral.  The coral that was removed was used as a building material, with many buildings of the city being constructed primarily from the material.  As Suakin was incredibly rich at the time, these included palaces and other opulent buildings, the remains of which are still visible today.  
The Walk to Suakin Island
Most independent travellers will arrive in Suakin by minivan from Port Sudan, and will alight at the public bus terminal on the mainland.  This is actually the best place to start your exploration, as the walk to the island is also interesting.  From the bus terminal, it's about a 1km walk to the short bridge that takes you to the historical island and old town.
The walk is interesting, because it's lined with the decaying remains of many once majestic colonial-era buildings.  Look out, in particular, for the old city gate, which stands opposite the bus station and is still in very good condition.  The location is at 19.105371, 37.328971 (here on Google Maps).  The walk also gives a window onto life for the local population.  Like much of Sudan, the poverty is as intense as the scorching heat, so be mentally prepared.  Small groups of goats roam the streets and eat the plastic rubbish that blows everywhere.  
What to do on Suakin Island
When you arrive at the island, you'll cross the short bridge and enter through the main gate.  This is the only way onto the island by land.  There's a guard house on the left and a Policeman asked us to buy an entrance ticket, but of course didn't actually have any tickets.  We expected him to ask for the usual $20 a person and then to have to bargain down, but he asked for $0.50 each, which we happily gave him.  We were then free to roam around the ruins of the coral city.  
Most of the once impressive buildings are in ruins, but the coral is still clearly visible.  On the side of the island closest to the Red Sea, a complex that will one day be an upmarket hotel is under renovation.  The project is funded by Turkey and is not yet completed.  Around here we ran into several local men working as guides.  
It's not obligatory to have a guide on the island and I don't usually like guided tours, but it is very hard to make head or tail of what the old buildings are on your own.  The information available online is also extremely limited, so I accepted a guide's offer to show us around.  He was very knowledgeable and guided us through both the new complex and parts of the old city.  He knew exactly what each building was, where to see the best coral, and the history of the opulent palaces that are now in ruins.  At the end, we each gave him $2, which he was very happy with.  
How to Get to Suakin from Port Sudan
To reach Suakin from Port Suan, take a public minivan from the main bus station in the centre of town (not the one on the outskirts where the long-distance buses depart).  The bus parking area is massive, but we eventually found the right buses by asking around.  Go to the south-west corner (coordinates 19.613023, 37.215204, here on Google Maps) and ask the drivers to confirm that they are going to Suakin.  
The minibuses run when full (which doesn't usually take long) and take about one hour to reach Suakin.  The price is $2 per person.  Get off at the main bus station in Suakin, which is located at 19.104583, 37.329117 and marked only as 'Parking Lot' on Google Maps.  Buses back to Port Sudan depart from the same location.
How to Get to Port Sudan and Suakin
Port Sudan is a major city in Sudan and also its major port, so it's very well connected to the rest of the country by road.  There's also an international airport and even an international ferry connection to Saudi Arabia!  
Travelling to Port Sudan by Road
Buses are the easiest and cheapest option.  There are direct buses to Port Sudan from Khartoum, Atbara and Kassala.  Bus times and ticket costs vary a bit depending on the bus company, but the following is a general guide:
Khartoum to Port Sudan: $25, 10 hours.
Kassala to Port Sudan: $25, 10 hours.
Atbara to Port Sudan: $18, 7 hours.
All buses arrive and depart at the long-distance bus station, not the local bus station in the centre of town.  The long-distance bus station is located at 19.625734, 37.194948 (here on Google Maps).  To reach the long-distance bus station from the local bus station, you can take a minibus from the northern part of the local bus station for $0.40.  The coordinates are 19.61466, 37.215511 (here on Google Maps).  To get from the main bus station to the centre, just look for a minibus on the road outside the long-distance bus station.
Hitchhiking to Port Sudan
There are a lot of trucks travelling between Port Sudan and Khartoum and Atbara, so hitching a lift would be easy.  It could be slow though.  
Travelling to Port Sudan by Air
Port Sudan's airport currently has direct flights to three destinations outside of Sudan: Cairo, Dubai and Jeddah, and flights are expensive.  There are also domestic flights to Khartoum.  The flights are also difficult to book – your best option would be to visit a travel agent inside the country or ask someone inside to book on your behalf.
Travel Between Suakin and Saudi Arabia by Sea
Although Sudan's main port has moved to Port Sudan, Suakin still has a ferry connection to Jeddah in Saudi Arabia.  The journey takes 12-14 hours and costs about $120 per person (cars can also be transported).  The ferry departs every two days from Suakin Ferry Terminal, which is clearly marked on both Maps.Me and Google Maps.
If you want to take the ferry from Jeddah to Suakin, check out this great article at iOverlander on how to do it. 
Where to stay in Port Sudan and Suakin
It's not possible to actually stay on Suakin island (there is no accommodation currently), although it should be possible to stay in the town of Suakin outside of the island.  However, aside from some colonial-era buildings, which can be visited on a day trip, there is nothing particularly interesting about the city.  Therefore, most travellers chose to stay in Port Sudan, which is bigger, more modern (not saying a lot) and has far more options for accommodation.  
I stayed in Port Sudan, where I checked out a lot of different options for accommodation.  The most interesting area to stay is near the Red Sea University, which is close to the waterfront and has plenty of restaurant options.  After an unpleasant incident with bed bugs in Atbara the night before, we were looking for something mid-range.  Here's what we found:
Budget: Your Al Yemen Hotel.  This place is a dump, which is why we didn't stay, but it is the cheapest place we visited, at $15.30 per night for a (decaying) double room that looked like the door was about to drop off.  The location is clearly marked on Maps.Me.  It's not marked on Google Maps,

but is at coordinates 19.612033, 37.220941

.

Mid-range: Behein Hotel.  This hotel is basic, but clean and is where we ended up staying.  The price was $24 per night for a double room.  The location is clearly marked on Maps.Me and

Google Maps

.

(Relatively) high-end: We found two higher-end places, as follows:

Basiri Plaza Hotel: This was the only place we looked at that appeared to be up to modern European standards, but had a price to match – $80 per night for a double room.  The location is

clearly marked on Google Maps

, but not on Maps.Me.  The coordinates are 19.613656, 37.219568.

Baasher Palace Hotel: This place was at the lower end of 'high end' and charged $60 a night for a double room, but would have accepted $50.  One of our group spent a couple of nights here and said it was fine, but some of the rooms didn't seem that clean.  The location is clearly marked on Maps.Me.  On

Google Maps it's marked as just Baasher Hotel

.
How Long to Stay in Port Sudan and Suakin
A single day is sufficient for Suakin.  The main attraction is the island, which, unless you're an archeologist, will only take one or two hours.  
For Port Sudan, it really depends on you.  If you're into diving or snorkelling, you could easily spend a couple of days here.  Or if you just want to chill in one of the more relaxed parts of Sudan, then Port Sudan is a good option.  However, there really aren't any must-see attractions here.
Safety in Port Sudan and Suakin
Sudan in general is pretty safe and we didn't experience any problems in Port Sudan or Suakin.  Everyone was very friendly with us.  That said, the economic situation in Sudan is currently dire and people are on edge.  
I saw an old man have an argument with a small boy (he looked less than ten) who was selling bananas in one of the local markets.  The argument escalated quickly and the old man lunged at the boy and started beating him.  Other people on the street quickly intervened and separated them, but it shows how volatile the situation is.  
Travelling in Port Sudan and Suakin During Ramadan
I visited Sudan during Ramadan, which is not the best time.  That said, Port Sudan was one of the easier locations, as we were generally able to find food. The restaurants on the waterfront were closed, even in the evening, but there was a kiosk selling foul (bean stews) and a couple of other simple dishes in the evening.  Many people also asked us to join them for a picnic iftar (the meal to break the fast).  Sudanese hospitality is amazing!  
There were a few simple restaurants open around the bus stations in both Port Sudan and Suakin even during the day.  In Port Sudan, we had a delicious fish dinner next to the local bus station for less than $2.  
If you're into diving or snorkelling, then Ramadan is definitely not the time to visit.  There are several dive centres on the waterfront, but all of them were closed.  
Read More About Sudan
Sudan is a beautiful and unique country, but not the easiest place to travel.  Check out my other Sudan guides for everything you need to know to backpack independently around this crazy country: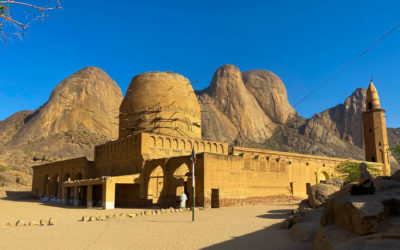 Kassala and the Taka Mountains This travel blog contains everything you need to know to visit Kassala independently and all the best things to see and do there.  It includes how to travel to Kassala with public transport, where to stay, what to eat and how to stay...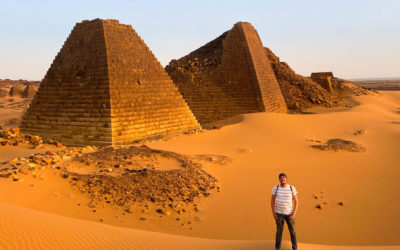 How to Visit the Meroe Pyramids, Naqa and Musawwarat es-Sufra This travel guide contains everything you need to know to visit the Meroe Pyramids and the temples of Naqa and Musawwarat es-Sufra independently.  It contains detailed information on what to see, how to...