Ultimate Lebanon Travel Guide
How to Visit Lebanon and Stay Safe During the Crisis
The Ultimate Travel Guide to Lebanon
Last Updated: 22 Feb 2023.
This guide will tell you everything you need to know for visiting Lebanon during the current crisis, updated regularly with the latest pandemic travel restrictions and for changes caused by Lebanon's current crises.  I have lived in Lebanon for the past three years (narrowly surviving the 2020 port explosion) and have visited almost every inch of this beautiful and crazy country.
Lebanon was a beautiful country with vibrant cities and beautiful ancient historic sites before the multiple crises that began in 2019.  And actually, it still is.  With a bit of planning, it's still possible to have an amazing trip here, despite the political crisis, economic crisis, electricity shortages, frequent protests and the after effects of the port explosion.
Places to Visit
One of the best things about Lebanon is that almost any area can be visited as a day trip from Beirut.  You can choose to do the below as a series of day trips or stay overnight in different cities as you travel.  Staying overnight reduces the time spent travelling, but also means you have to take everything with you as you travel.
Beirut
In my opinion, the real must see place in Beirut are the Raouche (Pigeon) rocks, which are a beautiful place to watch the sunset.  If you're feeling adventurous, take the path down the cliff from the viewing point next to the Bay Rock Cafe (opposite Starbucks) and sit on the rocks opposite Raouche.  From there, not only do you get a beautiful view of the rocks themselves, but also of the sun setting over the Mediterranean Sea.  It's a great place to enjoy a couple of beers or a bottle of wine.  
One of the joys of Beirut is just strolling through its vibrant neighbourhoods.  I particularly recommend Hamra, which is an interesting mix of old and new, with boutique shops, bars and restaurants.  Gemayze and Mar Mikhael, the main bar district, are also gradually coming back to life after the port explosion destroyed them in 2020.  Zaytuna Bay is a chance to see the more upmarket side of Beirut.

The centre of the Beirut Souks area, including the iconic clock tower in Place de L'Etoile and the Roman baths, has reopened after being cordoned off by the military due to protests for the past two and a half years.  Until recently, it was still possible to enter the 'egg,' an abandoned cinema building purportedly left to remind people of the atrocities of the civil war (it's full of bullet holes), but unfortunately the authorities have now built a fence around it to keep people out.  
The National Museum of Beirut reopened to tourists in summer 2021 and is currently open daily.  Be sure not to miss the 'mummy room' on the basement level, which houses three mummies from the Qadisha Valley.  It's a little temperature-controlled room in a corner and easy to miss if you don't know it's there.
The Jeita Grottoes & Byblos
The Jeita Grottoes, located slightly to the north of Beirut, are spectacular and conveniently located not far from the coastal highway up to Byblos, making the two a convenient day trip.  You can also choose to stay overnight in Byblos before heading further up north.

At the Jeita Grottoes, you have to leave your phone in a little locker near the entrance, as they don't allow photographs.  It doesn't look very secure, but I've never heard of anyone having problems.  
The main attraction of Byblos is wandering the beautiful historic centre, with its ancient Mediterranean architecture, beautiful flowers growing up the walls and in some cases across nets over the streets and cute boutiques, bars and restaurants.  There's also an ancient citadel that's worth checking out and the picturesque little harbour.  
If you're looking for something a little adventurous, walk along the right hand wall of the harbour (as you're facing out to sea) until you reach the ancient tower at the harbour entrance.  From here, with a bit of care, you can climb up to the top of the tower for amazing sunset views, often without any other people.  
If the beach is more your thing, slightly north of the harbour you'll find a pebble beach that's great for swimming in the summer (approximately May to October).  Finally, Byblos is home to Fenicia restaurant, in my opinion one of the best restaurants in the whole of Lebanon.  
Batroun
A pretty seaside town in the north of Lebanon, Batroun is nice for an afternoon to wander it's old town, which is basically a less touristy version of Byblos.  In the Batroun area there are several off-the-beaten-track places that are worth checking out if you have time:

The Msailha fort, just up the main highway from the city, is small but impressive, standing alone on a huge rock (it's also free to enter).  The location is here on Google Maps.

The Rock of Hamat, a giant rock painted in the colours of the Lebanese flag, on the edge of the old cliffside road from Batroun to Chekka.  The location is

here on Google Maps

.

The cliffside walk though the old road tunnel to the north of the cliffside road from Batroun to Chekka.  Go to coordinates 34.311459, 35.681865 (here on Google Maps) and then take the footpath on the left hand side of the road before the current tunnel entrance.

For the more adventurous travellers, the disused railway tunnel.  To reach the entrance, after the current road tunnel walk about 100m then go down the footpath on the left hand side of the road.  Two thirds of the way down, there's a little bank on the left that you can scramble up (about 2-3m).  The entrance to the tunnel is at the top of this bank.
Tripoli
Much of the time, Lebanon doesn't feel like the Middle East.  There are no deserts, no camels (apart from a couple in Chouf that were imported from Saudi just to entertain tourists) and many of the main cities, including Beirut, Byblos and Batroun, have more of a Mediterranean feel than a Middle Eastern feel.  And then you reach Tripoli.  Check out the old souk (market) and the citadel.  The souk seems to close around sunset at the moment, possibly due to a lack of power after dark.  

Tripoli's Corniche is, in my opinion, not as nice as Beirut's, but Al Mina, the old town, is quaint and has several nice restaurants, including The Sailor Woman, my favourite seafood restaurant in Lebanon.  If you have plenty of time, you can also catch a boat from the Corniche to Palm Island, which has the biggest sandy beach in the north of Lebanon.  It's a nice place to chill out and swim in the sea.  
Anjar & Baalbek
The Roman ruins at Baalbek are some of the most spectacular in the world, especially the enormous temple of Bacchus, the wine God (gotta love Roman priorities).  That's why you should visit Anjar first!  Anjar is beautiful and spectacular, but after Baalbek, it will seem small and insignificant in comparison.  Don't forget to try sfeeha, the local delicacy, while you're in Baalbek.  Baalbek is also home to the Sayyida Khawla shrine, one of the most beautiful and historic Shia shrines in Lebanon.

Baalbek has a bad reputation for safety, but this generally refers to other parts of Baalbek governorate, not Baalbek city.  If you're concerned about safety, just don't go north of the city (and definitely keep away from Arsel, which has a justifiably rough reputation).

Saida & Mleeta
Saida has probably the most beautiful souk (market) in the whole of Lebanon, full of ancient stone archways and local people hawking traditional wares (and delicious Arab sweets).  There's also the small but worth-a-visit Dabane Palace Museum, a soap museum and the Hammam el-Sheikh traditional bathhouse.  The seafort on the waterfront is also worth a visit (although more spectacular from the outside than inside).  If you want a beer, go to Resthouse, a restaurant next to the seafort that is the only place in Saida allowed to sell alcohol.  Its garden is also a great place to take photos of the seafort.
Mleeta is a tiny village in the mountains that is home to probably the most well-maintained museum in Lebanon – The Hezbollah Museum.  Here, a free English-speaking guide will take you around and tell you about the various wars against Israel and Hezbollah's role in protecting and driving out the enemy.  Whatever your political views, the museum is very well done and worth a visit.  It's located about a 40-minute drive up into the mountains above Saida.
Tyre
One of the oldest cities in the world, Tyre is home to an ancient Roman Hippodrome.  The site itself is a bit rundown now, but the ruins are still impressive.  There's also a pretty little old town with less tourists than other cities in Lebanon and a colourful harbour full of fishing boats.  The restaurants next to it are worth checking out for some fresh seafood too.  To the south of the city is Lebanon's longest sandy beach.  This was affected by the oil spill off Israel in 2021, but is now clean again and safe for swimming.  

The Northern Mountains
There are many beautiful places to visit in the northern mountains of Lebanon, aside from just the pleasure of driving through the local villages and the often breathtaking scenery.  The three I would recommend for visitors are:

The 2,000 year old olive trees in Bchaleeh, which are supposedly the oldest in the world.  Local legends say that the olive branch from the story of Noah's Ark came from one of these trees, but you can make up your own mind.   The location is clearly marked on Google Maps.
The viewpoint at Aqoura.  Climb the rocky hill opposite the church for spectacular 360 degree views).   The start point is at Saydat Al Qarn church (here on Google Maps).

The Batarra Waterfall.  This 255m

(837 ft) waterfall, which passes through several layers of Jurassic limestone rock, is definitely the most beautiful in Lebanon.  It's best visited in the spring when there is plenty of meltwater.  I went in early August once and there was no water at all.

The Cedars of God.  At possibly 2,500 years old, the Cedars of God are some of the oldest cedar trees in the world and a UNESCO world heritage site to boot.
You will need a car to reach these locations, or you could try hitchhiking.  
The Chouf Region
Home to the majority of the Druze population of Lebanon, the Chouf region also contains the country's largest remaining cedar forests at the Chouf Biosphere Reserve.  This is a great place to do some hiking with trails from 5 minutes to a full day.  

The region also contains the Bettadine palace, which was built by the Ottomans, and the Moussa Palace, which was built over several decades by a crazy Lebanese man who wanted his own palace.  The latter contains a vast collection of ancient weapons and some very well done scenes from traditional Lebanese life, created with models animated in various ways.  I love the concept that the guy just suddenly decided to build himself a palace!
Jounieh
The Christian city of Jounieh used to be where Arabs from stricter countries in the Middle East went to party and unwind, as evidenced by the strip of hotels on the coast that look like they've seen better days.  Even now, the city is still home to Lebanon's only casino, Casino du Liban, and a bunch of 'super night clubs' – basically stripclubs.

For tourists not looking for such things, the main attraction is Harissa, the hill behind the city with a statue of Our Lady of Lebanon on the top.  There is also a very nice (but steep) hike up from the city below through the dense forest with occasional views across the bay.  The start of the path is at coordinates 33.997710, 35.650976 (here on Google Maps).  Recommended for sunset.  
Hermel and Akkar
The far north of Lebanon is known as one of its most dangerous areas, but most reports are highly exaggerated.  The main attraction here is the 2,500 year-old Pyramid of Hermel, which I visited in 2021.  Even now, no one's quite sure who built it!  Worth a visit if you have the time, but its location in one of the most remote parts of the country means that it won't fit many peoples' itineraries.  
The Far South (UNIFIL-Controlled Area)
The far south of Lebanon is interesting, because you can drive along beside the border wall with Israel, which is covered in security cameras and, in some places, graffiti similar to that seen in the Palestinian territories.  The coast at Naqoura also have the cleanest waters in Lebanon for swimming, thanks to the low population density and proximity to Israel, which has better sewage treatment facilities than Lebanon.  

The downside is that this area is under control of the UN peacekeeping force (UNIFIL) and foreigners need a permit to enter it.  See below the section on Entering the UNIFIL-Controlled Area for details of how to obtain the permit.  
Jezzine
This picturesque little village in the mountains near Saida is often overlooked by travellers, which is a pity, as it boasts one of Lebanon's most spectacular waterfalls.  For hikers, the village is surrounded by Lebanon's largest pine forest.  For those who want something darker, there're also some interesting abandoned buildings leftover from Lebanon's war of resistance against Israel to explore.  Read more in my dedicated Jezzine guide here.
Suggested Itineraries
Pick and choose where to visit from the places above.  However, my suggestions are as follows:
Two-day Trip: Beirut – Jeita Grottoes & Byblos.  This is way too short, but spend one day wandering Beirut, watch the sunset at Raouche in the evening and then head to the Jeita Grottoes and Byblos on day 2.
Four-day Trip: Beirut – Jeita Grottoes & Byblos – Saida & Mleeta – Anjar & Baalbek.   Best to base yourself in Beirut for this itinerary, which covers the major highlights of the country.  
One-week (7 day) Trip: Beirut – Jeita Grottoes & Byblos – Tripoli – The Northern Mountains – Saida & Mleeta – The Southern Mountains – Anjar & Baalbek. This itinerary includes most of the highlights of the country with a variety of cities, ancient ruins and nature.
Two-week (14 day) Trip or Longer: Beirut – Jeita Grottoes – Jounieh – Byblos – Batroun – Tripoli – The Northern Mountains – Anjar & Baalbek – Saida & Mleeta – Jezzine – The Southern Mountains – Tyre.  You could easily spend more than a day in many of the places listed here, making the trip more relaxing and enjoyable.  Alternatively, add in some hiking or visit some random villages in the mountains, many of which are beautiful.  
Hiking
I had no idea until I moved to Lebanon, but the country has some amazing hikes.  My personal favourites are the following:
Qornet As Sawda (Black Peak)

– The highest mountain in not only Lebanon, but the entire Levant region, and 5th highest in the Middle East, at 3,088m.  The landscape is like nothing else in the country, as barren as the moon.  It gets very cold near the top and is covered in snow from around November to May, so it's best to avoid these times.  The hike starts from the Cedars ski resort near the Cedars of God and the first two hours follow the ski lifts.  The total hiking time is about 8 hours and it's long, but not difficult.  

The Chouf Biosphere Reserve

– The largest cedar forests in Lebanon make for some beautiful hiking.  The reserve is clearly marked on Google Maps and is suitable for short or long hikes.

The Qadisha Valley

– Possibly the most beautiful place in the whole of Lebanon, a Colombian monk lives in a tiny monastery perched high on a cliff above the valley.  The path to the monastery is narrow with beautiful views and not particularly difficult, although the monk himself has stopped meeting visitors recently, due to the risk of Covid, as he is very old.

Jabel Moussa Biosphere Reserve

– There are many hikes here, from short 3-5km jaunts to 20km marathons and over steep mountain paths.  The highlight is Chouwen lake, which is a beautiful turquoise blue.  It's also possible to swim in it during the summer.  

Bkassine Pine Forest – The largest pine forest in Lebanon is riddled with beautiful hiking trails.  Check out my Jezzine guide for details.
Impact of the Crisis – Electricity
Lebanon's national grid currently only supplies about 1-2 hours of electricity per day to most parts of the country, due to a shortage of fuel, insufficient capacity and various other factors.  This is terrible if you're local and don't have a backup power supply.  However, for tourists it's actually not that big a problem, as major hotels have good generators that provide 24/7 power and most restaurants and other businesses also have generators, if not all the time.
The best advice here is check with your hotel before visiting.  Some generators are not designed to run 24/7 and so buildings can have gaps without power.  My apartment currently has seven hours in 24 with no power, split between the night and morning, when they let the generator 'rest.'
The electricity crisis has made the roads more dangerous – many street lights and traffic lights are not operating.  If you do drive in Lebanon, when you come to a junction without working traffic lights, just slow down and drive slowly through.  Most Lebanese drivers are very cautious at these junctions, as the economic crisis has made imported car parts astronomically expensive and no one wants to damage their car.  
Impact of the Crisis – Hyperinflation
The most important thing to remember is to bring enough cash for the duration of your stay.  The best currency to bring is USD, but other common currencies, such as EUR and GBP, can also be exchanged at black market rates.  Licensed currency exchange shops are now permitted to exchange currency at black market rates, so you no need to be hooked up with a black market dealer.  
Pro tip: before coming to Lebanon, download the Lira Rate or Lira Exchange app for your smartphone.  These apps show the current black market rates and, although the rate on the street is usually slightly lower, give you a good guide as to the approximate rate you should expect when changing money.
If you do run out of money in Lebanon, don't withdraw money from an ATM if you can possibly avoid it.  ATMs currently operate at the official rate of 15,000 LBP to the USD, so you're losing most of your money to the banks.  The same applies to paying for things priced in LBP with credit/debit cards.  ATMs no longer offer USD currency withdrawal for foreign bank cards.  The best approach for travellers is to use a currency transfer service like MoneyGram or Western Union, which allow you to transfer in foreign currency and collect it in USD.
One knock on effect of the economic crisis is that Lebanon is now significantly cheaper than it used to be.  Hotels have started charging foreigners in dollars again, but everything else, and especially food, is much cheaper than it was before.  A good Lebanese meal for two in a normal restaurant will usually cost about $15, including drinks.  In a slightly more upmarket restaurant, expect to pay around $30.  
Impact of the Crisis – Safety
Crime rates in Lebanon are very low and, although they have risen recently as people become increasingly desperate, rates of petty theft are still lower than in most of Europe and criminals in general do not specifically target foreigners.  That said, the atmosphere can feel tense and the fortifications erected in some areas (lots of barbed wire, concrete barriers and patrolling soldiers) can give the impression that the safety situation is worse than it is.  
Most violent incidents that have been in the news recently have occurred during protests, often of a political nature.  If you do see the beginnings of a protest, such as groups of people marching together or tyres burning in the road, simply turn around and leave the area.  Protests usually start peacefully, but build to a point where the demonstrations spill over into violence.  Again, protests do not target foreigners, but there is a risk of being caught in the violence if you stick around.
An unfortunate legacy of the Lebanese civil war is that a lot of the populations still own guns.  At a recent protest in Beirut, not only were there shootings with machine guns, but the violence escalated with the use of RPGs.  This is an extreme case.  Again, I stayed away from the area.  
Guns are also often used at funerals or celebrations, where they are shot into the air in waves of celebratory gunfire.  Unfortunately, what goes up must come down, and people are occasionally killed by falling bullets or by bullets entering buildings through windows.  If you do hear shooting while you're in a building, move to the interior, away from the windows and wait for it to subside.  If you're outside, leave the area.  Funerals rarely happen in the city centre, which is the most interesting area for foreign travellers, so you probably won't come across them anyway.  Furn El Chebek, Chiyah, Tariq El Jdideh and Jnah are common areas for funerals.
Certain areas of Beirut experience violence far more than others.  In general, the southern suburbs of Beirurt, south of main road where the National Museum of Beirut is located, are less safe than the city centre.  In particular, Chiyah, Cola and Tayouneh and Tariq El Jdideh have all seen violent protests.  Martyr's Square and the Beirut souks area also see frequent protests, but these tend to be less violent than those in the south.

As a tourist, the only areas you're likely to visit to the south are Badaro (an upmarket bar street) and the Cola Intersection, as it's the main hub for public transport to the south and the Bekaa Valley.  I visit these locations regularly and have never had problems, but keep an eye out just in case.
This may all sound very scary, but actually Lebanon is very safe for tourists.  Even now, by far the most dangerous thing is the roads, where accidents are frequent.  Just use a bit of common sense and you'll be fine.
Impact of the Crisis – Fuel
One of the best ways to see Lebanon, and especially the more remote parts, is to rent a car and drive yourself.  During the summer of 2021, fuel became extremely difficult to obtain, often requiring queuing for hours (if you can even find a fuel station that's open).  The only other option was to purchase it on the blackmarket at vastly inflated prices.
The good news is that, since the end of September 2021, fuel has been readily available again.  The government has let the price of fuel rise to close to market value, which has reduced incentives for fuel hoarding and smuggling to Syria.  
Ethics – Should I Visit Lebanon During the Crisis?
With frequent power cuts and shortages of some products, many people question whether they should visit a country while it's in crisis, as they feel they may be using limited resources that are needed by the local population.  In the case of Lebanon, the answer is definitely yes, you should visit.  Lebanon produces very little domestically – even 80%+ of food is imported.  Shortages are not caused by a lack of supply on global markets, they're caused by a lack of financial means to purchase supply (compounded by corruption and a range of other factors).  
By visiting Lebanon, you are bringing much needed foreign currency into the country and, by buying products and services from local businesses, ensuring that it reaches local people who need it.  One of the biggest problems for Lebanese people is that the value of the LBP to the dollar is so low, which makes imports expensive.  Everytime there is a large influx of visitors, for example with the Lebanese diaspora returning home over Christmas, the LBP gains value, helping local people.  This shows the positive effect that an influx of foreign currency has and, as an individual your contribution will be small, but will certainly be positive.  In other words, don't feel bad about visiting!
Car Rental
One of the best ways to see Lebanon is to rent a car.  Car rentals are cheap now (about $20/day for a small car, including insurance) and Lebanon is a very car-based society.  A deposit of around $100 is often requested in cash for your first rental.  So far, I've not heard of any problems having this refunded.  In theory, an International Driver's Permit is required, but in reality no one cares, at least not if your local driver's licence is in English, French or Arabic.
I usually rent from Mike Rent-a-Car, which is a good option if you want to support local businesses.  The price is generally $20-30/day depending on the season for a small car and their Website is at www.mikerentacar.com.  Their office in Beirut is located here.  Alternatively, the big international car rental companies, such as Avis and Europcar, also operate in Lebanon.  They also have the advantage of having a presence at the airport, so you don't need to bother with other transport to get to your accommodation. 
Cars and Drivers
If you don't feel confident driving in Lebanon, it is possible to hire a car and driver from a hotel or hostel. This can cost upwards from around $70 a day plus fuel, but hotels may charge significantly more.
Ride Hailing Apps
Uber and Bolt both work well in Beirut.  Bolt is usually slightly cheaper, but Uber cars are generally in better condition and the drivers are more professional.  These apps are also by far the cheapest way to get to or from the airport in Beirut.  Just be sure to change the payment method to cash, as credit cards are billed at the official exchange rate so you'll end up paying $50 for a 5-minute trip across town.
Public Transport
Lebanon has an informal public transport network made up for service (shared) taxis and minibuses.  These are operated privately with pricing regulated by the government.  There are also public buses from Beirut to Tripoli.  Vehicles licensed for public transport, including taxis, all have red number plates (or red lettering on the number plate).
To catch a service (shared) taxi, stand on the edge of a road (main roads are usually better) and hold out your arm when a taxi comes past (look for the red number plates).  Ask the driver "Service?"  If he agrees, it means the taxi is shared, so you will not be charged for a private journey.  Then tell him your destination.  If he's going in the right direction and willing to take you there, he'll agree.  Finally, ask him the price.  Most drivers are very honest, but a few do try to overcharge foreigners.  
Inside Beirut
Service taxis operate throughout Beirut, although explaining the destination can be tricky.  Often, the easiest approach is just to say the name of the area, such as "Hamra," "Gemayze," "Daora," or "Cola."  Minibuses on set routes also operate, but finding the routes is extremely difficult, so use the same approach as when taking a service and ask the driver whether he goes to your destination.  Prices for service taxis are just over $1 and for minibuses around $0.50.
Northern Lebanon
Shared taxis and minibuses run from the Daora roundabout in Beirut up the coastal highway to Jounieh, Byblos, Batroun and Tripoli.  Prices vary, but are cheap, starting at about $1 to Jounieh.  Just ask the drivers whether they go to the city you want to reach.
For Tripoli, there's also a bus that runs on an actual schedule from Martyr's Square in Beirut.  
Their current schedule can be found on their Facebook page at https://www.facebook.com/connexion.transportation. 
Southern Lebanon and the Bekaa Valle
y
Minibuses run from the Cola Intersection in southern Beirut down the coastal highway to Saida and Tyre, as well as to Baalbek in the Bekaa Valley and to the Chouf region.  To visit the Chouf Biosphere Reserve, catch the bus to Barouk, the name of the nearest village.  From there, you need to walk several kilometres to enter the reserve and there is no public transport.  Hitchhiking could be an option. 
To reach Anjar, take the minibus to Baalbek and get off at Chtoura.  From here, there are other minibuses running to Anjar.  
The Jeita Grottoes
The Jeita Grottoes are located about halfway between Beirut and Byblos, approximately 5km from the highway.  Take public transport from the Daora roundabout and get off at the Ajaltoun exit of the main highway (coordinates 33.960616, 35.604071, here on Google Maps).  From here you can either walk (5km uphill) or take a taxi.  There are usually several drivers hanging around this area, although prices can be high and will depend on your negotiation skills.  To get back to the highway afterwards, you can usually find a driver in the Jeita Grottoes carpark.  Another good option to reach the Jeita Grottoes is to take an Uber all the way from Beirut.  Uber is cheap in Lebanon, so this works out around the same price.
The Northern Mountains
I'm not aware of any public transport option to reach this area of the country (including Aqoura, the Batara waterfall and the Cedars of God), so your options are really driving or hitchhiking.  
Transport to and from Beirut Airport
Uber is a cheap and convenient way to get to or from the airport in Beirut.  This should cost around $6.  However, this can be tricky when first arriving, due to needing to obtain Lebanese pounds to pay the driver.  If the exchange counter at the airport is not open or the rate is bad, you can try negotiating with the Uber driver to pay in USD at the black market rate.
There are always plenty of local taxis waiting at the airport to take you to the city centre.  These often try to charge ridiculous rates to foreigners – up to $50 for the 10-15 minute journey.  With a bit of bargaining, you should be able to agree on around $10.
Checkpoints
There are military checkpoints on the roads throughout Lebanon and even within some parts of Beirut.  Generally, they wave foreigners through without saying anything.  If driving yourself, slowdown at the checkpoint, wind down the window and greet the soldier.  Most times, he'll wave you though before you even come to a stop.  
In my two years here during which I've travelled the country extensively, I've been asked twice for my nationality and had my passport checked once (so carry it with you, just in case), and that was on the road between Hermel and Qobayat, one of the most remote parts of the country.
Entering the UNIFIL-Controlled Area
The only exception to the above is the checkpoints for entering the UNIFIL-controlled area south of the Litani river near the border with Israel.  Foreigners can only enter with a permit obtained in advance (with the exception of UN employees).  To obtain the permit, visit the police headquarters in Saida with your passport.  The police station is at coordinates 33.550327, 35.381710 (here on Google Maps).  You need to bring your passport and colour photocopies of the identity page and your entry stamp to Lebanon (and visa, if you come from a country that needs a visa to enter Lebanon).  It generally takes less than one hour and permits can be issued for entry on the same day.  Permits can be obtained for one or multiple days.
Money
Recently (as of early 2023), the black market exchange rate has been hovering around the 80,000 LBP to the USD rate, whereas the official rate is 15,000 LBP.  Previously, currency exchange shops were prohibited from giving the black market rate, but the government has relaxed this rule, so any currency exchange shop can exchange money for you.  Just make sure you bring plenty of cash.
Whatever you do, don't use a foreign bank card in an ATM or to pay in shops.  The banks still apply the official rate, so you'll be paying several times the real price.  
Mobile Phone Service and SIM Cards
Lebanon has good mobile Internet even in most rural areas.  SIM cards are widely available from mobile phone shops.  I use Alpha, which has good 4G coverage across most of the country.  Passports are not required to obtain a SIM.  Prices fluctuate, but a SIM card with 6GB of data valid for one month can be obtained for around $20.  I have been warned to check that the seller gives you the packaging to ensure that it's not a reused, although I'm not sure what the problem would be with this..  
Restaurants and Coffee Shops
One of the greatest pleasures of visiting Lebanon is the food.  This list is by no means exhaustive, but here are my favourite restaurants.  I happen to like coffee a lot, so I've also slung in a few coffee shop recommendations for good measure.
Beirut
Resto Ghazar: My favourite Lebanese-Armenian restaurant.  Try the soubeureg (cheese pastries), mouhamara (pomegranate with nuts) and manti.  Although not Armenian, their batata harra (spicy potatoes with coriander) is also out of this world.  Prices are very reasonable, at about $10-15 a person, including drinks.  

Ohannes Restaurant: Another great Armenian restaurant, with beautiful tiled decor.  The food is also great, especially the Ohannes salad and fried liver.  This place is a bit more upmarket at about $15-25 per person, including drinks.

T-Marbouta: A variety of great Lebanese food in the heart of Hamra with a nice outdoor seating area.  About $8-15 a person, including drinks.

Sawani Falfoul: A great place for breakfast in Badaro, an upmarket bar street.  In particular, try the foul (a kind of chickpea soup, pronounced like the word "fool" in English), shakshuka (scrambled egg with tomato) and hummus (the "Malaysian" hummus is particularly good, if not very Lebanese sounding).

Barbar Restaurant: Basic but tasty Lebanese barbeque restaurant in Hamra.  Not sure of the current price, but cheap!

Le Chef: A traditional Lebanese restaurant that claims to be the oldest in Lebanon, although my Lebanese friends tell me that this is bullshit.  The place has a lot of character and was saved from bankruptcy by a donation from Russel Crow, who once ate there, after being destroyed in the port explosion in August 2020.

Notes Speciality Coffee: My local coffee place.  Great brews and the chance to meet me if you're there in the morning (I often work from there).  
Byblos
Fenicia: This restaurant is so good that I have hardly eaten anywhere else in Byblos.  Up there with Resto Ghazar as one of my two favourite restaurants in Lebanon.  The environment is elegant and the food is absolutely out-of-this-world.  The cheese/shrimp rolls and the mixed grill plata are my recommendations.  Prices are about $15-25 per person, including drinks.  The only problem is that they don't take reservations and getting a seat can be difficult.  
Batroun
The Colonel Brewery: Lebanon's most famous craft beer brewery, the Colonel recently opened a restaurant with a view of the Mediterranean and a great selection of fresh seafood.  Try the delicious raw fish if you're feeling adventurous.  A meal for two including drinks is around $30.

Barrio 67: Not Lebanese cuisine, but delicious international food and nice decoration in the heart of the old town.  Prices are about $15-25 per person, including drinks. 
Tripoli
The Sailor Woman: this cute little restaurant serves only six dishes – fish with tahini, calamari, octopus, french fries, fattouch (traditional Lebanese green salad) and Tabbouleh (traditional Lebanese salad with Parsley).  What makes it so special is that all the cooking is done by a little old lady in her apartment, which is just next to the restaurant.  The fish is also very fresh, as Tripoli is the centre of the Lebanese fishing industry.  

Newtown Coffee: Great place to take a break from sightseeing and chill.  Nice environment and good coffee.  
Saida
Foul Abou El Ezz: Another breakfast place, simple, very local and delicious.  Try the foul (a kind of chickpea soup, pronounced like the word "fool" in English) and hummus.  

Green's Coffee: One of my favourite coffee shops in Lebanon with a great selection of coffees and even a deli counter.  The environment is top-notch with a nice retro feel.  

Resthouse: Overpriced (although still cheap by international standards), but with a great view of the Seafort and the only place allowed to sell alcohol in Saida.  Perfect for a beer with a view on a hot summer's day.
Baalbek
Local sfeeha place: On the main street of Baalbek, on the left as you're walking away from the Roman ruins, you'll come across what is basically a traditional oven in a room on the edge of the street with a few tables outside (approx. coordinates: 34.005245, 36.208302, here on Google Maps).   They make one dish – delicious sfeeha, the traditional meat pastry originally from Baalbek – and they make it really well.  It's a while since I've been there, so not sure of the exact price, but twenty sfeeha cost a few dollars.
Tyre
Fresh seafood: Tyre has a wonderful selection of reasonably-priced fresh seafood restaurants overlooking the harbour.  The location is at 33.274307, 35.194684 (here on Google Maps) and there are several small restaurants with harbour views nearby.  Prices start from about $10 a person, including drinks.
Accommodation
Hotels recently switched to charging foreign tourists in USD and so the prices are roughly the same as before the crisis.  You may be able to negotiate a deal with some of the smaller places when you're here, but that's tricky to do in advance.  AirBNB can be a very good option and relatively cheap.  With any accommodation, check the hours that they have electricty before booking.
Couchsurfing
Lebanon has an active Couchsurfing community.  Many people here host travellers and there are often events organised.  If you're looking to meet local people, this is a great way to do it.  
Covid-19, PCR Tests and Entry Requirements
As of 28 September 2022, the Lebanese government cancelled all Covid-related requirements for entering Lebanon.  Once in the country there are also no longer restrictions and masks are not required.  
PCR tests are not required for departure from Beirut airport.  However, if you need one for your next destination, they can be obtained at many hospitals in Lebanon.  I have used Hotel Dieu de France hospital in the past. There's also a lab that will send someone to your accommodation to do the test for you.  It's very convenient and the results are available same day, sent via WhatsApp.  They can be contacted on WhatsApp at +961 3 444 925.  Wherever you do the test, it will have a QR code.  Prices vary depending on the exchange rate, but are generally around $10-12.
More about Lebanon
After two years living in Lebanon, I've visited almost every inch of the country.  You can read about my adventures here: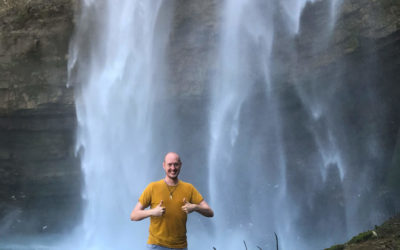 Why Visit Jezzine?  The picturesque village of Jezzine is perched high on a cliff top overlooking the incredible Jezzine waterfall - at 90m (295ft), one of the highest waterfalls in Lebanon.  It's also practically surrounded by Bkassine forest, the largest pine forest...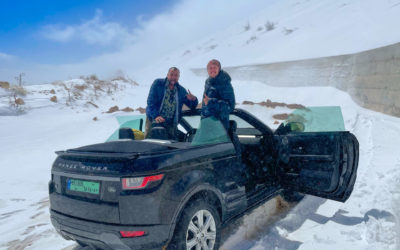 Hermel & Beyond: Road Tripping Remote Lebanon As a Scot, I'm used to living in countries far bigger than my own.  Lebanon is the exception - the entire country is only about 200km long and 80km wide at its widest point.  So how, you might ask, can there be 'remote...
Looking for even more great ideas?  Here's another in-depth travel guide to Lebanon by Romana and Jakub at Broken Naviation, including hotel recommendations for all budgets (living here I don't stay in hotels much).  They have some really beautiful photographs too.  Check it out here:
Don't forget to leave a comment below if you enjoyed the article or have questions!