How to Visit Karima and the Barkal Pyramids
Ultimate Sudan Travel Guide
How to Visit Karima and the Barkal Pyramids
Built in the shadow of the beautifully jagged Jabel Barkal mountain, Karima is one of the most interesting villages in Sudan.  This backpacking travel guide contains everything you need to know to visit the village and its attractions, including what to see, how to get there and where to stay.

Karima is home to the Barkal pyramids, one of the best preserved groups of pyramids in the country.  There's also a Jabel Barkal itself, ancient temples, and the surrounding area boasts colourfully painted tombs and a second larger group of pyramids – the Nuri Pyramids. With all these sights, Karima is a great place to base yourself for a couple of days, and there are high-quality guest houses and hotels for all budgets. 
What to See in Karima
The main attractions of Karima are all clustered together around Jabel Barkal, the mountain on the southern edge of the village.  Karima is not big, so it's an easy walk to get there, especially if you're staying on the southern edge of town.  In this area you'll find the Barkal pyramids, Jabel Barkal, the ruins of the temples of Mut and Amun and the Karima museum.  
Directions: All the sites in the Karima area are marked on Maps.Me and Google Maps, so finding them is easy.  The exception is that the Temple of Amun is missing from Google Maps, but it's next to the Temple of Mut, so you can't miss it.
The Barkal Pyramids
The Barkal pyramids are a small group of well-preserved pyramids on the edge of the Jabel Barkal area.  They are one of the best examples of the distinctive architecture of Nubian pyramids – smaller than the Egyptian versions and much more pointed.  The main road from Karima to El Kurru runs right behind them, so it's best to take phones away from it, towards Jabel Barkal.  The pyramids also look great from the top of Jabel Barkal, as the sun sets behind them. 
Like most Nubian pyramids, the tops were tragically destroyed in the 19th century.  Guiseppe Ferlini, an Italian treasure hunter, reportedly blew them off in his search for gold when he looted them.  However, the Barkal pyramids are in better shape than most.  
Jabel Barkal
The beautiful Jabel Barkal is the other key attraction of the Karima area.  It's a small mountain and the ascent only takes about 20 minutes, so even if you're not into hiking, it's very doable.  It's easiest to climb from the side of the Barkal pyramids, where there is a rough path.  The side overlooking the Nile is a sheer cliff and the view is spectacular.  From the top, you also have a bird's eye view of the Temples of Mut and Amun, which are at the bottom of the cliff.  
We climbed Jabel Barkal just before sunset and watched the sun go down behind the Barkal pyramids.  It was spectacular and very tranquil, with no one else on the mountain.  The southern side of the mountain is actually a huge sandbank and we had a lot of fun running back down to the bottom.  The descent is easy, even in the dark with a mobile phone light.  
The Temples of Amun and Mut
The Temple of Amun, the Egyptian god of air, is one of the largest temples of the Jabel Barkal area.  It was large enough to be considered a rival to the Amun Temple at Thebes (near Luxor in Egypt) back in Pharaonic times.  The scale of the site is most visible from the top of Jabel Barkal (see photo below).  The Temple of Mut is smaller and was built in honour of Amun's wife, Mut.  
Both temples were plundered and badly damaged during the 19th century.  Nowadays, the ruins consist of a few remaining pillars and some statues.  It's worth checking out, but is less spectacular than similar temples in Egypt.  
Karima Museum
The Karima museum is a small museum at the entrance to the Jabel Barkal area.  It houses a collection of artefacts from the area, including statues and a mummy.  When I was there, it was closed due to Ramadan, but word on the street is that it's worth checking out.
What to See in El Kurru
El Kurru is a village situated about 16km to the south of Karima.  The area is home to an archeological site with a single pyramid and some beautifully painted tombs.
Pyramid and Tombs of El Kurru
The village of El Kurru is home to an archaeological site containing a small pyramid, several tombs and a funerary temple.  The pyramid has steps going down on one side to the entrance of an underground chamber deep below.  You can walk down the steps, but it's not currently possible to enter the chamber.   
The tombs, used by the Nubian royal family of Kush, are the star attraction.  They contain some of the most beautifully-decorated Kushite burial chambers still in existence and are well worth checking out.
The funerary temple has been excavated and has a metal roof over it to protect it from the elements.  It was once used to make offerings to the dead.  More information about the temple can be found on this Website about its excavation. .
How to Access the Tombs: Access to the site is not officially restricted, so it's easy enough to wander around.  However, the tombs are kept locked.  To gain access, ask around for a Mr. Monsour, who has the keys to the first tomb.  I was extremely lucky, as I arrived at the same time as a bus load of visitors (very rare here!), so the tomb entrance had already been unlocked.  
As I entered the site, I spoke with Mr. Monsor, who was sitting in the shade by the entrance.  He asked for the usual $20 per person entrance fee.  I showed him that I only had $6 in my wallet and he gladly accepted it and waved towards the already unlocked tomb entrance.  I guess he'd already been paid well by the tour group and was happy just to make a few extra bucks on the side. 
I was not able to access the second tomb or to enter the pyramid.  I went back to Mr. Monsor about this, but he had already left the site by this time.  I presume that he would have unlocked these as well if he had the keys, so he probably doesn't.
The Tombs of Duweyhiyah
Just a few hundred metres from the main archaeological site of El Kurru, there are three 'beehive' shaped Meroitic tombs from the Nubian era.  There's no information about them online, so I have no idea how old they are, but they're worth checking out while you're in El Kurru.  One of them appears to be a tomb that's been built over another tomb – look out for the double outer wall.  
Directions: The Tombs of Duweyhiyah are not really a tourist attraction, so there is no entrance ticket.  There are also no doors, so you can enter all three of the tombs.  The location is at 18.412883, 31.776458 (here on Google Maps, which inaccurately refers to them as temples).  
What to See in Nuri
Nuri is a small rural village about 23km from Karima on the other side of the Nile.  The main attraction here is the pyramids, although wandering around the village is also interesting.  
The Nuri Pyramids
The Nuri Pyramids are one of the largest groups of pyramids in Sudan.  A lot of the information I read online before visiting said that they are badly damaged and hardly worth seeing.  However, I was pleasantly surprised.  They are certainly crumbling, but they are still some of the largest pyramids in Sudan and I found them spectacular.  
The Nuri Pyramids are part of a necropolis near the ancient Kushite city of Napata (near modern-day Karima).  More than 20 pyramids are still standing, marking the burial sites of a number of Nubian kings and queens.  They were built between 670 and 310 BC.
The site is slightly off of the main road in an area of desert.  You can walk freely among the pyramids and, most likely, you'll be the only visitor there.  When we were there, we saw one local, who had climbed part way up one of the pyramids and was resting.  Apart from that, we had the whole site to ourselves (maybe no one else wanted to brave the 40C+ (104F) degree temperatures!).
I never climb pyramids (or other ancient monuments), as I don't want to contribute to their erosion.  However, the remains of one pyramid has long since become a hill, with a clear path up one side.  It's well worth the walk up for a beautiful view of the other pyramids.  
Directions: The site is clearly marked on Google Maps and Maps.Me.  The location of the small hill is 18.564951, 31.914958 (here on Google Maps).  When we were there, we didn't see a ticket office and no one asked us to buy a ticket, probably because of Ramadan.  However, the official price, like other sites, is $20.  
Karima, El Kurru and Nuri Suggested Itinerary
The Karima area is a great two-day itinerary.  I suggest the following:
Day 1: Stay in Karima and visit the Barkal pyramids, the temples and the museum.  In the evening, climb Jabel Barkal and watch the sun set over the Barkal Pyramids.
Day 2: Visit El Kurru and Nuri by public transport.  A couple of hours max in each place is sufficient, but travelling between them does take time.
If you're short on time, you can also do the sights of Karima on the day of arrival, but it will be at a much less leisurely pace.  
How to Travel between Karima, El Kurru and Nuri
Here's everything you need to know for a day trip to El Kurru and Nuri from Karima by public transport.  Note that I don't think there are direct buses from Karima or El Kurru to Nuri – you need to change in the bigger village of Merowe on the way.
Karima to El Kurru: This part's easy – all you need to know is that minibuses depart from in front of Karima railway station.  The railway station is marked on both Maps.Me and Google Maps.  As usual, minibuses depart when full.  The price is $1.40 per person and the journey takes about half an hour.  Look out for the Barkal pyramids on your left as you leave Karima.  The minibus will take you right to the entrance of the main archeological site in El Kurru.  
El Kurru to Nuri: Our original plan was to catch a bus from El Kurru to Merowe on the other side of the Nile, and then another to Nuri.  However, by the time we were ready to leave El Kurru, it was already very hot.  People in Sudan are generally very active in the mornings, but activity lessons in the afternoon and minibuses become less frequent.  As we couldn't find a bus, we walked to the main road (about 15 minutes away) and tried hitching a lift.  
It only took two minutes for a car to stop.  The driver wasn't going to Merowe, but dropped us at the junction close to it (18.502121, 31.804955, here on Google Maps).  He asked us for $1 each, which we gladly gave him).  From this junction, the first car to come along gave us a ride to Merowe.  The guy was young and really friendly and we even stopped for selfies together.  Anna and I were both squashed onto the front seat, as he had luggage in the back. 
From the Merowe bus station (coordinates 18.479417, 31.820638 – here on Google Maps), we caught a minibus to Nuri.  It was $0.60 per person and took about 20 minutes.
Nuri to Karima: Mini buses back to Merowe from Nuri depart periodically from the side of the road at 18.563467, 31.909259 (here on Google Maps).  The cost is $0.60.  However while we were waiting, a pickup stopped and gave us a lift instead. He dropped us on the main street in Merowe (18.485824, 31.826045 – here on Google Maps), from where we were able to catch a passing bus back to Karima for $0.60.  It took about 15 minutes.   
Entrance Tickets
Most tourist sites in Sudan charge foreigners $20 for entrance.  I have no problem with supporting the local economy (and hopefully even conversation) by buying a ticket, but $20 is excessive compared to similar sites in other countries.  Many sites in Sudan are also not in great condition.  
I visited Karima during Ramadan and, of all the sites listed above, the only one where anyone tried to collect a fee was the El Kurru tombs.  A good strategy is to decide how much you're willing to pay in advance and put only that in your wallet.  When someone asks for the fee, show them that's all you have, and they'll usually accept it.  We generally felt $5 each was a fair price.  Most of the money just goes into people's pockets anyway (we never got an official ticket) and this is a lot of money in this region. 
Where to Stay in Karima
Karima is one of the more touristy places in ancient Nubia (if I can say that – we saw one other tourist in two days), as many people stay overnight to watch the sunset from Jabel Barkal.  There are several options for accommodation:
Ahmad Moussa Guest House: We stayed here and it was a wonderful choice.  It's run by a family (although if you're male you'll never see the female half of the family) who hosts people in their home.  It's really more of a homestay than a guest house.  They charge $10 per person per night, including dinner and breakfast.  Honestly, it's worth it for the food alone – the elaborate dinners were some of the best meals we had in Sudan.  
The location is right next to Jabel Barkal and the Karima museum and is clearly marked on both Maps.Me and Google Maps.  I don't think they're on any booking sites, but you can just turn up.  When we arrived, the door was locked, so we shouted in the street and eventually someone came out.  Note that the location of the entrance is not clear on either Maps.Me or Google Maps.  If you're wondering which door to shout at, its exact location is at 18.538498, 31.833679 (here on Google Maps).
Hotel Al Nasser: I didn't stay here, but am told by other travellers that it's a good budget option.  It's located next to the main bus station in the centre of town.  Not so convenient for the archeological sites of Karima, but very convenient for travelling to El Kurru and Nuri.  Rooms are around $10.
The location is marked on both Maps.Me and Google Maps, but the Google Maps location only has Arabic text.
Nubian Rest House: If you're looking for something more high end, this is your place, and all decorated in traditional Nubian style.  The Location is clearly marked on Maps.Me and Google Maps.
Where to Change Money in Karima
The most convenient place in Karima to change money is at the Bank of Khartoum (banks generally give the best rates in Sudan).  The location is 18.544527, 31.847406 (here on Google Maps).  
Getting to and from Karima
When we arrived in Karima, we were pleased to see it had a convenient, centrally-located bus station, so we expected catching buses to be easy, right?  We'd have been so lucky!  Turns out that buses drop passengers off at the central bus station, but they all load up in different locations, depending on where you're going.  
There are minibuses to Karima from Dongola and Atbara, where you can connect to most other places that travellers visit in the country.  Most buses leave early in the morning.  We left Karima for Atbara around 7:30am.  
Dongola to Karima: Minibuses depart from a shiny new bus station on the outskirts of Dongola.  The location is not on any mapping tool, but is at 19.196511, 30.435104 (here on Google Maps).  The price is $8 per person and the journey takes about four hours.  There's also a $0.40 fee to enter the bus station!
Karima to Dongola: Minibuses depart from a small bus station that's not marked on either Maps.Me or Google Maps.  The location is 18.543269, 31.848807 (here on Google Maps).  From Dongola there are onward buses to Abri, Kerma and Old Dongola.  
Atbara to Karima: Minibuses for Karima depart from the main bus station in Atbara, located at 17.688032, 33.999158 (here on Google Maps).  The price is $12 per person and the journey takes 4-5 hours.  In Atbara, there's also a $0.40 fee to enter the bus station!  
Karima to Atbara:  From Karima, buses to Atbara depart from a random location next to one of the bus stations (look for the blue "INLAND TRANSPORTATION" sign – see photo below).  The coordinates are 18.543064, 31.848596 (here on Google Maps).  From Atbara, you can find buses to Port Sudan, Kassala, Shendi and Khartoum.
Safety in the Karima Area
Karima, El Kurru and Nuri all felt very safe and we didn't face any issues at all.  When we were in Nuri, I did notice some angry looks from locals at one point and then I realised we were drinking juice on the street at mid-afternoon during Ramadan, which can be considered disrespectful.  It's always good to be aware of local customs.  
Visiting Karima During Ramadan
There are pros and cons to visiting during Ramadan.  On the plus side, all the tourist sites were open, but most of the ticket collectors weren't there, so many sites were free by default.  
On the negative side, finding food was often challenging, especially at lunch time.  Ahmed Moussa Guest House provided us with an amazing dinner and breakfast.  On the day that we went to El Kurru and Nuri, we brought some bread and cheese to take with us.  We ate it in a secluded spot under a tree near the Nuri pyramids, so as not to offend anyone who was fasting (which was pretty much everyone).
More About Sudan
Sudan is a beautiful and unique country, but not the easiest place to travel.  Check out my other Sudan guides for everything you need to know to backpack independently around this crazy country: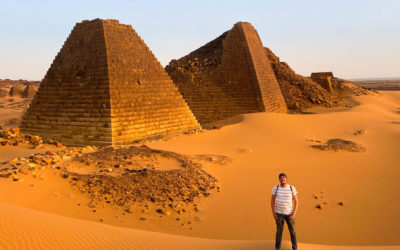 How to Visit the Meroe Pyramids, Naqa and Musawwarat es-Sufra This travel guide contains everything you need to know to visit the Meroe Pyramids and the temples of Naqa and Musawwarat es-Sufra independently.  It contains detailed information on what to see, how to...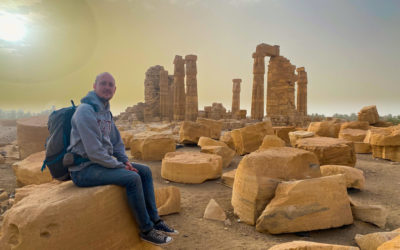 Everything you need to know to visit Abri and Kerma Nubian villages in Sudan, including what to see, how to get there and where to stay.