Samarra
Climibing the Malwiya Minaret
Samarra: Climbing the Malwiya Minaret
The Malwiya minaret is one of the most iconic buildings in Iraq and was the highlight of my 3 week trip to the country.  It's beautiful, terrifying if you have vertigo and located in Samarra, a city not under the authority of the central government.  
The Journey to Samarra
The first challenge was transportation.  After going to the wrong garage (shared taxi station) Anna, who accompanied me on the trip, and I eventually arrived at the Allawi North garage, where we were mobbed by drivers trying to persuade us to take a shared taxi.  They didn't speak any English and we struggled to communicate that we wanted a shared taxi and not a private one (maybe they didn't want to understand?).  
After a while, we gave up and went to Allawi South, on the other side of the road, and were quickly escorted to a group of shared taxis to "Samarra."  Luckily, I showed the drivers a photo of the Malwiya minaret and they suddenly said "no no no, these taxis go to 'Samarra,' not 'Samarra!'"  It all sounded the same to me, but must've been my terrible Arabic pronunciation.  Luckily, a friendly local guy took pity on us and escorted us back to Allawi North, through the group of baying private taxi drivers, to a couple of yellow taxis parked at the back and introduced us to a shared taxi driver.  Shortly after, a couple of other guys turned up and we were off (for 15k IQD a head).
The two locals travelling with us were university students from Samarra that studied in Baghdad and didn't speak much English, but one of them, named Zaid, was very friendly and curious.  We ended up talking for most of the 1.5 hour journey.  At one point I commented that I'd heard that Samarra is not under the control of the central government and the guys just laughed.  "Nowhere in Iraq is under the control of the central government," they quipped.

When we arrived at the checkpoint to enter Samarra, Zaid was able to tell the soldiers all about us.   They were very surprised to see two random travellers suddenly arrive and a lot of phone calls ensued.  Samarra is under the control of the Saraya al-Salam militia, an armed group that was involved in the liberation of the city from ISIS a few years ago and previously fought against US forces back in 2004.  However, they were very friendly with us.  Actually, I think we confused the hell out of them.  To their surprise, Anna was sitting in the front seat next to the driver, which women don't do in Iraq.  One of the soldiers looked really confused, "Sir, why do you permit your wife to sit in the front?" he asked me.  
Zaid told us that the soldiers didn't completely believe we were tourists.  "They think you might be spies," he told us, "so they should watch you.  Or otherwise that you might be kidnapped, so they need to protect you.  Honestly, they have no idea what to do with you."  Eventually, after long delays, the soldiers decided to let us proceed with a military escort, so we ended up with two soldiers in a military pickup following us around the city.  
Zaid was obviously enjoying hanging out with us, so decided to accompany us while we were in Samarra.  By this point, it was 3pm and we were starving, so he took us to a very nice local kebab restaurant that was open despite it being Ramadan.  Poor Zaid, he was such a great host, I felt bad for him watching us eat kebab while he couldn't eat or drink.
Climbing the Minaret
After eating, much to the surprise of our military escort, we decided to walk to the Malwiya minaret.  They crawled down the road behind us in their pickup as we walked and enjoyed a little window into the daily life of a city that very few foreigners have ever visited.  
The Malwiya minaret is located on the edge of the city and was built in the ninth century AD.  It's also a UNESCO World Heritage site.  The top is 52m high (171ft) and the spiral staircase around the outside that is the only way to reach it only has a handrail on the inside – on the outside there is nothing, which somehow makes it beautiful, although it wouldn't be much fun for anyone with vertigo.  The top is small and flat and I dread to think what it's like when it's crowded, but luckily the three of us were the only visitors when we were there, so we had it to ourselves.  
To me, there is something beautiful and unique about the Malwiya minaret.  I have visited many mosques all over the Middle East, but there is really nothing else like it, in Iraq or anywhere else.  After taking some photos, we climbed to the top and chilled for a while, enjoying the calm and slight wind.  This part of Iraq (and most of the country, apart from the north) is extremely flat, but also featureless, an endless desert disappearing over the horizons.  The great mosque of Samarra has been restored to some extent over the years, but the present structure is more like a courtyard and nothing special.  The original great mosque of Samarra that the minaret was attached to, once the largest mosque in the world, was destroyed in 1278.

After we descended, we paid the entrance fee (25k IQD each for foreigners).  When we entered, we'd been told we could pay on the way out, and we already knew the price, so we knew we weren't being ripped off.  We took a quick photo with our military escort before leaving.  They were friendly enough, although they definitely seemed less comfortable with foreigners than soldiers in other parts of the country.  
The Al-Askari Mosque
The Great Mosque of Samarra may have been destroyed long ago, but Samarra has another ornate and colourful mosque that is almost as old – the Al-Askari mosque, built in 944. Its distinctive golden dome, minarets and clock tower were all destroyed in a series of bombings by extremists in the 2000s, but have now been meticulously restored.  It's not easy to enter and quite a few independent tourists I know have not been allowed inside.  However, we had two advantages – Zaid and our military escort. 
We soon discovered that a big advantage of having an escort was that we got waved through all the checkpoints inside Samarra very quickly.  However, the entrance to the Al-Askari mosque is pedestrian only and our escort waited outside in their pickup.  We actually had to pass two pedestrian checkpoints to enter the mosque, each with separate men's and ladies' entrances.  
The soldiers at the first checkpoint were again very surprised to see a foreigner, but Zaid talked them into letting me in.  They did, however, keep my small bag at the entrance (all my valuables were in my pockets) – no big deal.  After about 15 minutes, we came out into the road to the mosque behind the checkpoint and had to wait even longer for Anna.  When she finally appeared, I only recognised her by her green backpack – she was wearing a full abaya.  A second, easier, checkpoint followed and we finally arrived at the mosque, where we removed our shoes (women must wear socks, for men this didn't seem to be an issue).  
This Al-Askari mosque is one of the most important Shia mosques in the world and the remains of two Imams are buried here – Ali Hadi and his son Hasan Al-Askari.   On the outside, the golden dome and minarets are distinctive, and the inside is unusually colourful.  Iraq is the only country I have visited where the beauty of the mosques and shrines can compare to those of Iran, and this is no exception.
Unlike many mosques in Iraq, phones were allowed inside, so Zaid and I took some photos of the beautiful interior and then sat and listened to some religious leaders reciting prayers for a while.  This was around 5pm and Zaid told me that they would go on all through the night.  Anna wasn't with us, as she was in the women's section, which, from her photos and description, is just as beautiful.  
When we returned to the checkpoint to leave the mosque, the guard had changed, and they'd lost my bag.  It took twenty minutes and a lot of phone calls, but eventually they found it in a locker inside a shipping container used by the soldiers for storage.  Everything was still inside, including my power bank.  
Return to Baghdad
It was already around 6pm when we left the mosque and Zaid came with us to the Samarra garage on the edge of town.  We were too late for a shared taxi back to Baghdad, but with a lot of discussion, Zaid bargained a private taxi down to 30k IQD for the two of us, so it worked out at the same price anyway.  "Whatever the driver says, don't pay more!" he told us!  The driver looked really young and drove at about 150kmh all the way back to Baghdad, but was friendly enough and waited patiently while we were asked the usual questions at the checkpoint to reenter the city.  
Looking back on my trip to Iraq, the day in Samarra was my favourite of the whole trip.  This was partly because it was only my second full day in Iraq, so everything was new and exciting, partly because I'd see so many photos of the minaret while planning it, so actually seeing it felt like stepping into a fairytale, partly because of all the challenges we overcame during the day, and partly because of the great new friend we'd made in Zaid.
Useful Tips
Shared taxis to Samarra leave from the Allawi North garage in Baghdad and cost 15k IQD per person.  The journey takes about 1.5 hours (excluding the time required to pass the checkpoints).  Look for the yellow-coloured taxis near the back of the Allawi North parking area.  

It's also possible to catch a shared taxi to Samarra from Mosul.  The price is 20-25k IQD and the journey takes around three hours.  

Be patient and polite at the checkpoint to enter Samarra (and other checkpoints in Iraq).  It takes time, but I know several people who've visited Samarra independently recently and no one has been denied entry.  They may ask you to leave your passport at the checkpoint and collect it on your way out, in which case they'll give you a token to show instead while you're in the city.  Leaving your passport may sound scary, and they don't always require it, but it was normal practice at least until April this year.  

It is not permitted for foreigners to stay overnight in Samarra.  So far this rule seems to be strictly enforced.  Zaid actually wanted to show more of the city and offered for us to stay at his house for the night, but the soldiers would not allow it.

Anna's abaya was provided free-of-charge at the checkpoint to enter the Al-Askari mosque.
More About Iraq
Feeling tempted to visit Iraq yourself?  It's easier than you think.  Check out my complete guide to backpacking Iraq independently or my other articles on travelling through Iraq: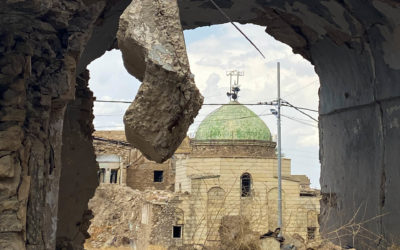 I visit Mosul, a city rebuilding brick-by-brick in the aftermath of ISIS, and the beautiful ruins of the ancient city of Hatra.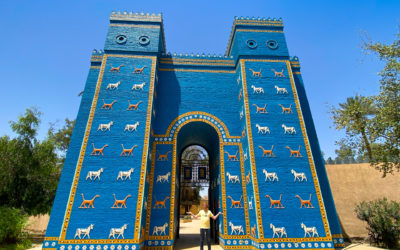 The Fabled City of Babylon Babylon is probably the most famous place in the whole of Iraq, despite the fact that the hanging gardens are long gone.  Archeologists aren't even sure that they were actually in Babylon!  However, the archeological site is impressive, as...